The homebuying market ebbs and flows throughout the year for many reasons. But ultimately, all real estate agents can expect the same general changes:
Warmer weather and longer days: business booms
Colder weather and shorter days: business slows
Just because business slows down doesn't mean yours has to—it simply means you have to adjust your tactics. Here, real estate pros share how:
Set clear expectations with your clients
No matter the season or location, most experienced real estate agents agree that it's vital to prepare clients for the current and upcoming nature of the market.
California-based Realtor® John La Mattery explains to his clients that even when the market is at its peak, it doesn't mean it's without hurdles.
"You will also experience more buyer competition, so be prepared to negotiate with multiple buyers," he says.
Related: Coaching tips that turn homebuyers into homeowners in a seller's market
Lauren McKinney, a real estate agent in Asheville, North Carolina, ensures her clients also have a clear picture of what the market will look like as the seasons change—a tactic that's especially helpful for clients without time constraints.
"I send emails prior to the busy spring season to follow up with clients who showed interest during the fall and winter but haven't found what they want," she says.
McKinney also recommends contacting clients looking for a deal during the winter, as many homes sitting on the market will reduce in price.
Make the best use of your time during buying season
When you're at your busiest, Cincinnati-based Realtor Eric Sztanyo stresses the importance of using your time wisely. For example, he recommends waiting to work with a homebuyer until they're prequalified , so all parties know what they can afford. And preparing your paperwork ahead of time will help you and your buyer jump on the perfect home when it hits the market.
John Myers, a real estate broker in Albuquerque, New Mexico, advises his buyers to call as soon as they've found a home they love and make viewing the property with you a priority.
"Real estate agents should have their buyers view the home today, as it may not be available tomorrow," he explains.
Help homebuyers narrow down their choices
During a hot market, it can become impossible to act quickly on the perfect home when your buyer has a long list of prospective homes. McKinney suggests helping clients narrow their list to a reasonable number.
"Many can be knocked off the list right away," she explains. "It's a waste of everyone's time if, for example, they want to look at an outdated colonial when they want an updated mid-century ranch."
Related: Indecisive: How to help your clients pinpoint their dream home
Winter is slower—but not without perks
Even though winter is typically a slow season for real estate, Sztanyo says there are still advantages for both buyers and sellers.
If you have a seller who's waiting until spring to put their home on the market, he recommends encouraging them to sell now, as they'd be generally competing against fewer homes on the market.
And for buyers, Sztanyo echoes McKinney's earlier point about getting a deal during the colder season: "When you see homes that didn't sell in the summer and fall seasons and have been on the market longer, this could be a great opportunity to buy a home for less."
Use downtime to focus on your business
Even though the colder seasons can come with downtime, it doesn't mean your work schedule should change. Instead, use that time to focus on evolving your business, whether it's educational classes, marketing campaigns, a business plan or networking.
Related: 7 social media best practices for Realtors
La Mattery uses his downtime to catch up on business strategies and education.
"This includes attending real estate conferences, marketing seminars and economic lectures," he says. "I'll even visit new developments to catch up on housing design trends and get a sense of what new ideas developers have in terms of interior decorating."
As the seasons fluctuate, your bandwidth does, too. But all real estate pros would agree it's important not to let your customer service suffer simply because business is picking up. Set clear expectations depending on the season, maintain focus and use the pros and cons of each season to your advantage whenever possible.
When will San Diego home prices peak?
How much higher can home prices go? This is the question on everyone's mind. In this short video, I am making a very bold prediction on the San Diego housing market and what we can learn from the last time we peaked.
What is mortgage forbearance?
Were you affected by COVID-19 and suffer a loss of income as a result? In this video John briefly discusses what forbearance really means and what questions to ask your bank PRIOR to agreeing to forbear your mortgage payments.
Tips for Designing a Small Living Room
– Karl Kennedy
Author of projectortop.com
If you live in a small apartment or tiny home, you understand how frustrating it can be to feel cramped. What kind of furniture you get and how you position it can make a big difference in how big that space feels, though.
Want to make the most of your small living room? Check out the tips below! The best news is you don't need to spend a ton of money to make the room feel bigger. It's all about putting your resources to use in the right way.
Tip 1: Use a projector instead of a TV
Television sets have slimmed down over the last couple decades, but they're still pretty heavy and bulky. You can save some space by mounting them directly onto the wall instead of using an entertainment stand—but you can save even more space (and get a bigger screen) by switching to a projector.
Many laser projectors have an ultra-short throw distance, so you don't need a big room to use them.( Learn about top laser projector options for 2020 here) Paired with a retractable screen, they give you big-screen entertainment that doesn't dominate the entire room.
Tip 2: Take advantage of vertical space
In small rooms where there's not a lot of square footage, taking your storage vertical can help you maximize the room's potential. Tall bookshelves, floating shelves, and other high storage options both add functionality and can help make the room feel larger by drawing your eye upward.
Tip 3: Use multi-function furnishings
This is one trick tiny home owners know and love. Instead of a single-use coffee table, look for one that has drawers or shelves built in. You can also get ottomans and end tables that have hidden storage nooks built right in. With smart use of these two-in-one style furnishings, you can have everything you want close at hand without cluttering up the room.
This same idea can apply to the seating, too. This is especially important if your living room also needs to serve double-duty as a dining room or entertainment space. Rather than a coffee table, get a round café table with folding chairs. You can keep one or two of the chairs out full-time for more comfortable meals, and pull out the rest when you have people over.
Tip 4: Make mirrors a part of your décor
Mirrors trick the eye into thinking your room is bigger than it is. Strategic use of mirrors in your décor can help a lot in a small room. It's even better if you can use them in conjunction with windows, lamps, or other lighting, spreading that illumination through the room to give it a more expansive feel.
Tip 5: Mount your lighting on the walls
Floor lamps are bulky and take up space that could be better-used. Even compact desk lamps need a surface to sit on. Attaching the lighting to the walls gives you the illumination you need without further cramping your space. As an added benefit, they often give better, more even lighting, so your room will be brighter overall—and that, in turn, can help it feel larger.
Tip 6: Use nooks, crannies, and corners
Sometimes you have to contend with a space that's both small and oddly-shaped. A couch in a narrow room can make it feel more like a hallway. If you use a corner sofa, though, you instead have a comfy, cozy nook to sit in. You can do the same thing with bay windows, breakfast nooks, and other architectural oddities.
What's the bottom line?
A small living room doesn't have to feel cramped if you make smart use of the space that is available. We hope these tips help you turn your small space into a comfortable place to live and entertain!
10 Steps to Buying a Home in San Diego

Some Highlights:
If you are thinking of buying a home, you may not know where to start.
Here is a simple list of 10 steps that you will go through to purchase a home.
Make sure to ask your agent for details about each step and what else may be required in your area!
5 Reasons To Sell Your House This Spring!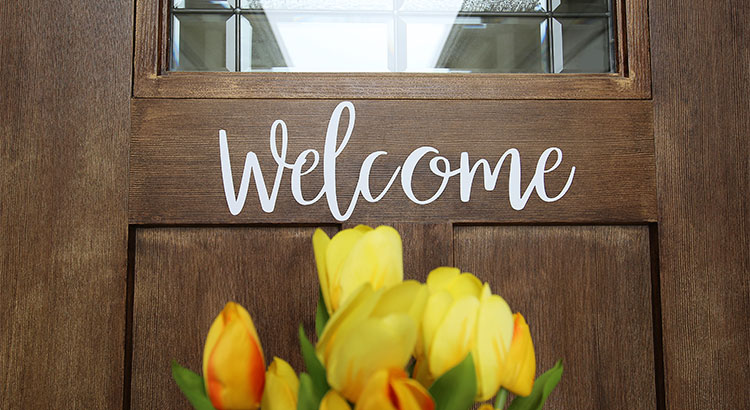 Here are five compelling reasons listing your home for sale this spring makes sense.
1. Demand Is Strong
The latest Buyer Traffic Index from the National Association of Realtors (NAR) shows that buyer demand remains strong throughout the vast majority of the country. These buyers are ready, willing, and able to purchase… and are in the market right now! More often than not, multiple buyers are competing with each other for the same home.
Take advantage of the buyer activity currently in the market.
2. There Is Less Competition Now
Housing inventory is still under the 6-month supply needed for a normal housing market. This means that, in most of the country, there are not enough homes for sale to satisfy the number of buyers.
Historically, the average number of years a homeowner stayed in his or her home was six, but that number has hovered between nine and ten years since 2011. Many homeowners have a pent-up desire to move, as they were unable to sell over the last few years due to a negative equity situation. As home values continue to appreciate, more and more homeowners are granted the freedom to move.
Many homeowners were reluctant to list their home over the last couple of years for fear that they would not find a home to move in to. That is all changing now as more homes come to market at the higher end. The choices buyers have will continue to increase. Don't wait until additional inventory comes to market before you to decide to sell.
3. The Process Will Be Quicker
Today's competitive environment has forced buyers to do all they can to stand out from the crowd, including getting pre-approved for their mortgage financing. Buyers know exactly what they can afford before home shopping. This makes the entire selling process much faster and simpler. According to Ellie Mae's latest Origination Insights Report, the time to close a loan has dropped to 47 days.
4. There Will Never Be a Better Time to Move Up
If your next move will be into a premium or luxury home, now is the time to move up! The inventory of homes for sale at these higher price ranges has created a buyer's market. This means that if you are planning on selling a starter or trade-up home, it will sell quickly, AND you'll be able to find a premium home to call your own!
According to CoreLogic, prices are projected to appreciate by 4.6% over the next year. If you are moving to a higher-priced home, it will wind up costing you more in raw dollars (both in down payment and mortgage payment) if you wait.
5. It's Time to Move on With Your Life
Look at the reason you decided to sell in the first place and determine whether it is worth waiting. Is money more important than being with family? Is money more important than your health? Is money more important than having the freedom to go on with your life the way you think you should?
Only you know the answers to these questions. You have the power to take control of the situation by putting your home on the market. Perhaps the time has come for you and your family to move on and start living the life you desire.
That is what is truly important.